All the fun I can have with the two!
I asked G. last night what he's been up to – his reply: not much, just doing laundry and cleaning my guns. I'm a gangsta gal!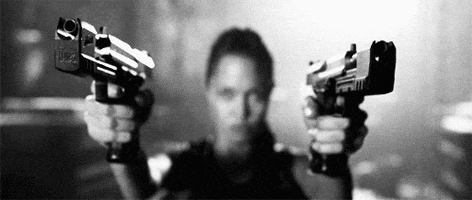 I messaged the Dutch Buddy saying that when I dressed up in a see-through sweater and put some lipstick on, so many guys at the office wanted to know how I was doing all of a sudden and was wondering if the sweater and lipstick had anything to do with it. He said it must be those two, as he himself did exactly the same thing last week and the guys were all over him too. Imagining him wear that stuff cracked me up big time! And then he sent me a selfie! So I sent him mine. After that I sorta got on the "you keep ditching me fella" subject and he called me! We chatted for half an hour. Among other things we've discussed how some people at work should be way more discreet when they do a checkout on a gal. He started bragging how he was smooth about it and I never caught him at that.
Still no date set for our get-together – he may be going on vacay next week. I said I'll keep bugging him until we actually meet, as we needed to set up a LinkedIn account for him – this is part of my hidden agenda where I want to try and get G. out of the place. But we'll see, I don't want to get too ahead of myself.